Do good, feel good…
Each day in February I'm getting on board for SurFebruary and raising funds for Chris O'Brien Lifehouse. Your donations support services and programs for people with cancer. They drive innovation in research, improve care, and provide equal access to all our services for everyone.
It only takes a minute and anything you can give (no matter how large or small) will go a long way to helping me reach my target. Thank you, I really appreciate your support.
See you in the water!
My Updates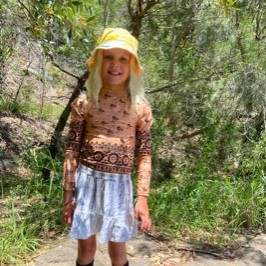 Why I wanted to do this
Tuesday 2nd Feb
I started this because my dad asked me if I wanted to surf everyday for the month to help people and not only do I get to surf and get better at that but I get to help other people like my Aunty Nae who had cancer and just finished her treatment at Christmas. 
Share
Thank you to my Sponsors
Renae Lucas
Spicak Transport
Uncle Ron
Paul Conlon
Luke Anderson
Nana Jann & Pop Glenn
Shaye Arnold
Coby Caine
Helen Anderson
Leigh Wigley
Jono Colovos
The Boyds Xo
Tiff Richmond
Chippa
Lorraine Ryan
Dad
Jade Shephard
Rochelle Diamond
Melisa George
Anonymous
Julia Lang
Corinne May
Cruz & Sari
Rochelle Cooper
Annie Gallen
Michelle Bevan
Jessica Howe
Kylie King
Nat Hayllar
Kim & Clayne Houghton
Kathy Wilkinson
Dominique Barlow
Shelly
Sarah Maddern
Kelly Clerke
Ryan And Ange
Steve Rossini